Kogl Castle has been owned by the Mayr-Melnhof family since 1872. It was built in 1750 by the princely Khevenhüller family, who took over the dominion of Kogl as early as 1581. Johann Michael Prunner from Linz is believed to be the main planner of the palace. From the year 2000, the entire castle was extensively restored.
Friedrich II. Mayr-Melnhof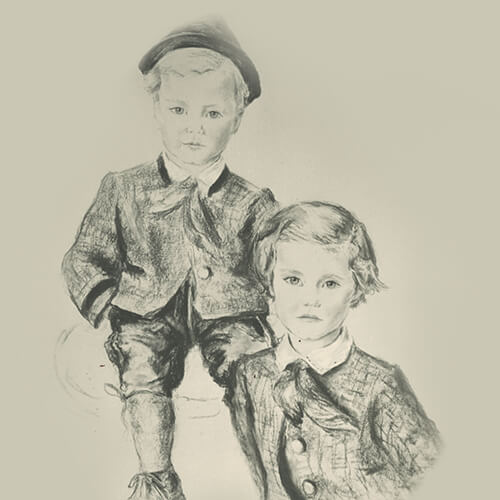 Friedrich III. Mayr-Melnhof and Maria-Theresia Reisky (geb. Mayr-Melnhof)
As the daughter of Baron Franz Mayr-Melnhof, Kogl Castle went to Countess Theodora Kottulinsky in 1884. She quickly became known as a patron and sponsor and inscribed places such as the Kottulinsky Park or other houses and monuments at the parish church in St. Georgen remember her name and popularity. The arms of alliance of the Mayr-Melnhof and Kottulinsky families on the stone portal in Kogl Castle were also witness to this era.
The extensive park that surrounds the castle has largely been preserved in its splendour since the striking renovations of 1911.